APTA Academy of Education Physical Therapy Faculty Development Workshop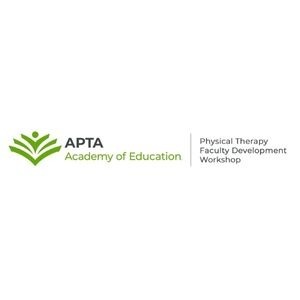 Past Event
Held: July 20, 2023
Workshop Goals:
Introduce novice faculty to established roles in the academy.

Facilitate professional growth of junior faculty members.

Create a sustainable professional growth and development plan incorporating elements of teaching, scholarship and service.

Cultivate a network of academic colleagues among workshop participants and facilitators.

Examine the contemporary integration of diversity, equity, inclusion and belonging in the physical therapy curricula.
Focused Learning Opportunities:
Discussions on balancing responsibilities of teaching, research and service as the new faculty member acclimates to a higher education role.

Applying core principles of teaching and learning, using best practices in course development, student assessments, and student engagement.

Analyzing adaptive learners.

Fostering professionalism and coaching.

Focusing on the unique role of the Director of Clinical Education (DCE) as a member of the faculty team.

One-on-One consulting opportunities with faculty facilitators during scheduled sessions.
Participants:
This workshop is designed for full time PT or PTA faculty who have less than 5 years of experience as a faculty member. Priority enrollment will be given to members of the APTA Academy of Education. The workshop is limited to 75 participants. Participants will receive in advance required materials to bring to workshop.
CEUs: 21 Contact Hours
Faculty Facilitators and Invited Speakers:
Carol Beckel, PT, PhD, St. Louis University

Christie Cohoon, PT, DPT, OCS, St. Louis Community College – Forest Park

Jeremy Houser, PT, DPT, PhD, OCS, Indiana State University

Steven G. Lesh, PT, PhD, AT-Ret, SCS-Emeritus, Academy of Education Director of Professional Development

Kirsten Potter, PT, DPT, Tufts University

Tricia Prokop, PT, EdD, CSCS, Bowling Green State University

Moyo Tillery, PT, DPT, OCS, FAAOMPT, Elon University

Angela Wallace, PTA, McHenry County College
Agenda:
Thursday, July 20, 2023
8:00 – 11:00 The Academic Culture and Career Advancement
11:00 – 12:00 The Master Adaptive Learner and Clinical Reasoning
12:00 – 1:00 Lunch (consultation sessions)
1:00 – 3:00 Developing Program Policies
3:00 – 5:00 Course and Syllabus Design
Friday, July 21, 2023
8:00 – 10:00 Learning Objective Construction and Rubric Development
10:00 – 12:00 Student Assessment
12:00 – 1:00 Lunch (consultation sessions)
1:00 – 3:00 Diversity, Equity and Inclusion
3:00 – 4:00 Curriculum Assessment
4:00 – 5:00 Scholarship Roles

Saturday, July 22, 2023
8:00 – 9:00 Student Engagement
9:00 – 10:00 Student Remediation
10:00 – 11:00 Lessons Learned Over the Years
11:00 – 12:00 Scholarship Applications
12:00 Session Ends for Most participants
12:00 – 5:00 (optional) Clinical Education Faculty (Communication, Accommodations, Relationships, Roles and Responsibilities)
Registration Information:
The deadline for the registration is June 9, 2023. Early registration is encouraged to ensure enrollment. New FDW is limited to 75 participants.
APTA Academy of Education Member: $600

APTA Member: $640

Non-Member: $795

Add on DCE/ACCE Workshop: $150 – Limited to 30
Cancellations and Refunds: Cancellation requests for Conference received by June 9, 2023, will receive a full refund minus a $50 administration fee. There will be no refunds for no-shows or cancellations after June 9, 2023 (unless the conference has a waitlist). Cancellation requests must be submitted by email to the Academy of Education, academy@aptaeducation.org.
Location:
The workshop will be held on the campus of Northwestern University's – Chicago campus - 645 North Michigan Avenue, Chicago, IL.
A block of rooms has been reserved at a nearby hotel within walking distance to the University. Reservation information will be released by May 1.
If you have any questions or need assistance, please email academy@aptaeducation.org.