2023 APTA DC Spring Meeting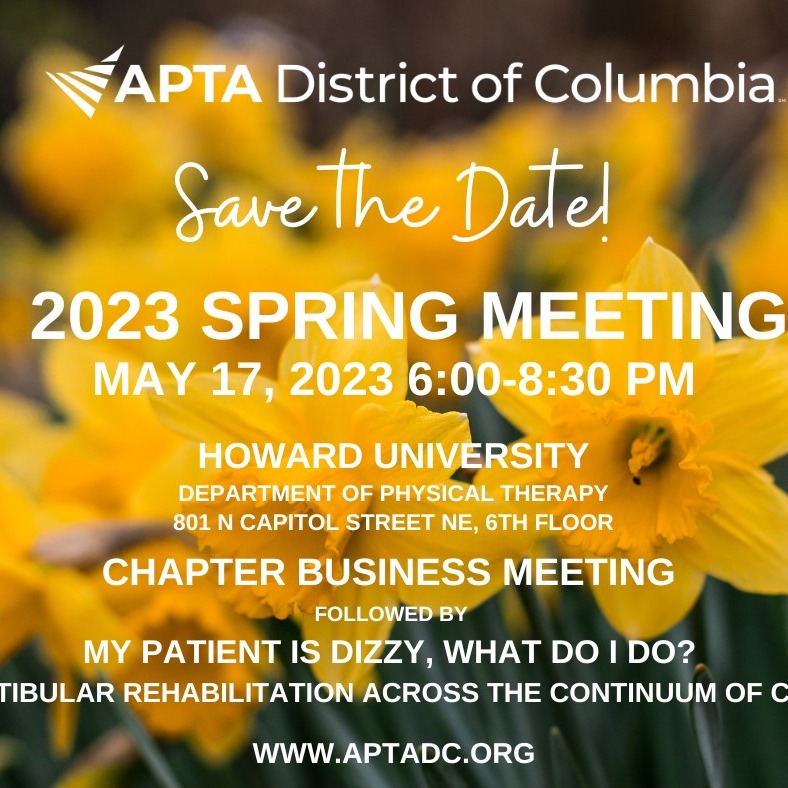 Past Event
Held: May 17, 2023
Contact: Suzie Callan
Registration for this Event is closed, please contact info@aptadc.org if you need assistance.
6:00 pm - APTA DC Spring Meeting
6:30 pm - My Patient Is Dizzy, What Do I Do? Vestibular Rehabilitation Across the Continuum of Care
IN PERSON & ZOOM OPTIONS
COURSE DESCRIPTION
Dizziness can be the result of many causes. This presentation will explore common causes of dizziness seen across the continuum of care. We will discuss how to perform differential diagnosis to determine if the dizziness is the result of vestibular dysfunction. Finally, we will discuss the pathophysiology and PT management of common vestibular diagnoses seen in acute care, inpatient rehabilitation, and outpatient.
COURSE OBJECTIVES
At the conclusion of this course, the participant will be able to:
Discuss common causes of dizziness.

Identify common vestibular pathologies seen across practice settings.

Utilize PT examination to differentially diagnose individuals who present with dizziness.

Compare and contrast PT management of individuals with various vestibular pathologies.
PANEL
Carlin Bowersox, PT, DPT, Board-Certified Clinical Specialist in Neurologic Physical Therapy
Karen Goodman, PT, DPT, Board-Certified Clinical Specialist in Neurologic Physical Therapy
Joanna Hsu, PT, DPT
Sara McKeeman, PT, DPT
Maria Stidham, PT, DPT, MBE, Board-Certified Clinical Specialist in Neurologic Physical Therapy
Dr. Bowersox received her BS in Kinesiology from James Madison University in 2013 and a DPT from Marymount University in 2018. Dr. Bowersox is a Board-Certified Clinic Specialist in Neurologic Physical Therapy. Dr. Bowersox has treated both adult and pediatric populations in the acute rehabilitation environment since 2018. She is currently a Physical Therapist III at MedStar National Rehabilitation Hospital.
Dr. Karen Goodman is an Assistant Professor at The George Washington University where she teaches neuroscience and the management of individuals with neuromotor dysfunction. She graduated from The University of Connecticut with a Master of Science in Physical Therapy in 2004 and went on to receive her Transitional Doctorate of Physical Therapy degree from Marymount University in 2009. Dr. Goodman's clinical background includes physical therapy management of individuals in both the acute care and outpatient environment, particularly individuals with neurologic disorders. She is a Board Certified Neurologic Clinical Specialist, a Certified Vestibular Specialist, and a Certified Brain Injury Specialist. Her research interests focus on neurologic practice including treatment of individuals with vestibular dysfunction. In her free time, she enjoys traveling, running, and exploring the outdoors with her husband and toddler.
Dr. Joanna Hsu is a neurologic Physical Therapist at George Washington University Hospital's Outpatient Rehabilitation. She grew up in the Northern Virginia area and attended the University of Virginia where she majored in Kinesiology. She received her Doctorate of Physical Therapy at George Washington University in 2021 and began working at GWUH shortly after. Her clinical interests include: neurological rehabilitation, vestibular, post-concussion, post-COVID, gait and balance training, wheelchair seating and mobility, and the management of medically complex patients. Joanna specializes in the treatment of neurologic conditions and is passionate about expanding GW Outpatient Rehabilitation's vestibular and post-concussion treatment programs. Outside of her clinical practice, she is also an APTA Certified Credentialed Clinical Instructor and serves as adjunct faculty at The George Washington University Physical Therapy program, where she enjoys teaching and mentoring future physical therapists. When not working, she enjoys hiking, puzzles, art, music, and is learning how to skateboard (safely)!
Dr. Sara McKeeman graduated from Ohio State University's physical therapy program in 2021 and moved to Washington DC to complete a neurological residency at GW- MedStar NRH during her first year of practice. Following this, she took a job as an acute care clinician at Washington Hospital Center where she works primarily in the neuro ICU and neurosurgical step-down units. She loves helping patients who have experienced brain injury; therefore, she primarily encounters vestibular dysfunction in the form of central vestibular pathology. However, more recently, Dr. McKeeman has moved into treating in the emergency room as well, helping manage patients with BPPV, hoping to expedite treatment and decrease length of stay.
Dr. Maria CM Stidham received her BS from James Madison University in Mathematics and Biology in 2003, Masters in Biomedical Engineering from The Catholic University of America in 2005 and DPT from Virginia Commonwealth University in 2008. Dr. Stidham is a Board-Certified Clinical Specialist in Neurological Physical Therapy and is certified in dry needling. Dr. Stidham has treated patients in both the acute care and acute rehabilitation settings working with patients with neurological disorders and cardiac related pathologies since 2008. She played an integral role in the implementation of High Intensity Gait Training and restructuring of the LVAD training and education program at MedStar National Rehabilitation Hospital in Washington DC where she is currently a Senior II Physical Therapist and Clinical Informaticist.